Need Help to Address What's Happening at Work?
Joyce Odidison reveals practical tips and tools to help you address what's going on at work any day of the week. As a Conflict Analyst, Corporate Trainer, Founder of the Global Workplace Wellness Summit, Founder of Coach Velocity School of Coaching, President of Interpersonal Wellness Services Inc. Joyce shares decades of first-hand experience to help you address toxic interpersonal conflicts and work stresses. Whether you are a leader wanting to improve collaboration, a manager who is just learning the ropes, a frustrated employee dealing with poor leadership, a frightened employee being bullied, or a co-worker who just can't get along with others. Don't forget to share with your co-workers and your boss too…
Anchor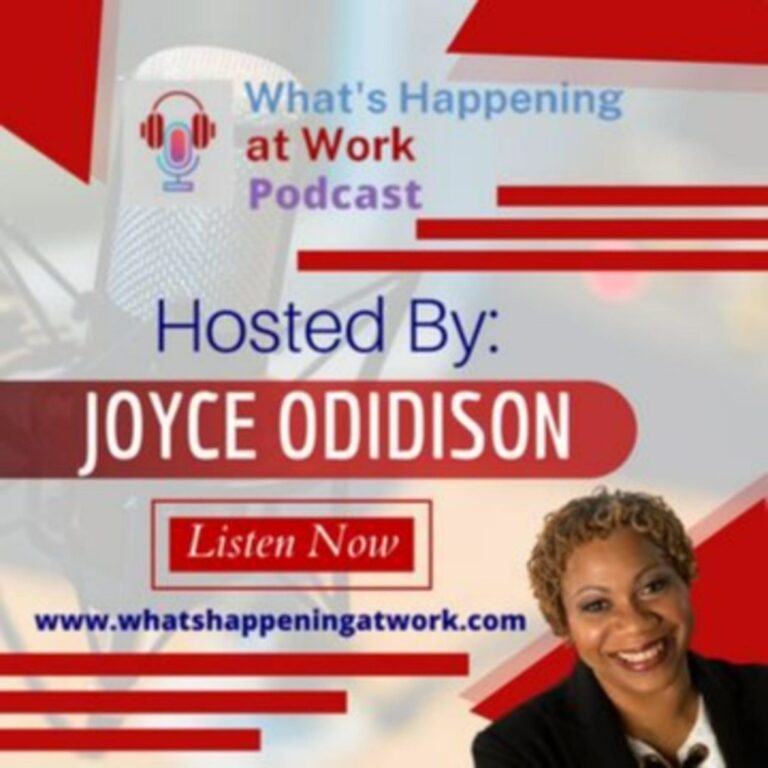 What's Happening At Work Show
Millions of mid-career professionals become emotionally and mentally unwell and develop illnesses each year due to difficult work relationships and situations. Let's talk about the things that keep you up at night. What's Happening at Work.
Joyce Odidison, President of Interpersonal Wellness Services Inc. reveals practical strategies to address what's going on at work any day of the week. Sharing decades of first-hand experiences and practical tools she has employed as a Conflict Analyst for 24 years, to help mid-career professionals excel at work.
Episode #70 – Celebrating My Sixth Book – The Inclusive Wellness Competency Teaching and Coaching Framework
I want to share my excitement with you about the launch of my 6th book. This book has been in the incubator of my mind for quite some time. It is meant to expand our lenses about the teaching and coaching of wellness competencies. I use competencies because we know they can be learned and improved upon. You will note that we can always work on our bodies, our minds and attitudes to attain optimal well-being. The same concept is presented in the WIS Method, the nine-dimensional framework that expounds on the wellness mindset and teaching. This book is a resource for coach trainers, instructors, facilitators, wellness practitioners and other professionals looking to marry the social determinants of health to coaching and teaching. It also provides some nuggets for leaders on how to lead wellness at work and strategies for organizational and workplace wellness. I am happy and excited that this book took so long. It was meant to take time and be birthed at this time when our health and wellness are in such jeopardy. You can pick up a copy of the book Here
Join me in 2022 as I expound on the wellness competency teaching and coaching framework weekly, as I teach wellness facilitators, coaches, and all those looking to be part of rebuilding the new world of work, to drive high performance, innovation, resilience. Join at Global Workplace Wellness Community of practice for our weekly wellness teachings. Looking forward to sharing my book tour calendar for 2022 with you.
#wellness #joyceodidison #interpersonalwellness #booktour #booklaunch #wellnesscoaching
Search Results placeholder