So did you set a goal this year? Have you ever set a goal that you know you couldn't reach? What about setting goals you could reach if only you had the right support, structure, a strategy or plan to achieve it successfully? Most people would be twice as successful if they had the right support to attain their goals. To attend my action pack half-day goal setting coaching session Click here

Maximize Time Resources and Wellness for Business and Life

It is customary for most people to set goals at this time of year, some even make resolutions. As a coach, I like to work with goals as they are future focused, resonate positive energy and momentum. Goals should be based on what you are going to do in the future and how you are going to do this. I think in order for one to have a really happy year, it is essential to have goals and a plan of action.

Don't forget that your goals should by fun, exciting and resonate positive energy and passion. To get you started on this excited process, I have added my goals acronym to help you begin to think of goals differently.

G – Great

O – Opportunities

A – Attainable via

L – Leaping

S – Successfully

Need support to set and achieve your goals? Get support from a coach! Join my half-day Strategic Goal Setting Coaching session and make this the year you achieve your goals.

To Your Wellness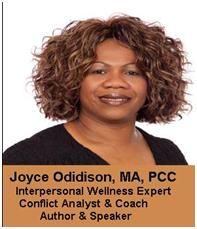 Joyce Odidison help mid-career professionals, entrepreneurs, executives and their organizations respond to difficult situations in their work or life Well, to get great results and maximize time, resources and wellness in their organizations, business and life.