Book a Wellness Conversation and have Family and Friends attend for the Holidays! Don't delay, only a few dates left.

Ever wondered what would happen if we practiced giving the gift of wellness for the holidays? Employers who give their employees' wellness and health packages are not just showing appreciation, they are investing in their employees' wellness; helping them access resources that will ensure their employment life cycle is well maintained. This year, our company is joining with other organizations to ensure that they have a wider range of services and selections to promote health and wellness with their employees. We have a range of gift certificates at various prices for a range of services including Wellness assessment and plans, Wellness coaching packages and Wellness Conversations.

December and January are very high stressed months for employees and their families. Many people get sick and hospitalized and yes some even die of stress related diseases because they unable to cope with their life stress plus the stress of the holiday activities. Last year someone I cared for had a terrible stroke due to stress and someone I loved passed away a few January's ago. This time of year often reminds me of warmth, hugs, smiles and good cheer but many of my clients share with me that they dread this time of year. They hate spending time with relatives that are unpleasant, fighting or just not getting along. That is why am offering Wellness Conversations for families and friends to get together and talk about the 8 pillars of wellness and how they can support each other in maintaining their capacity for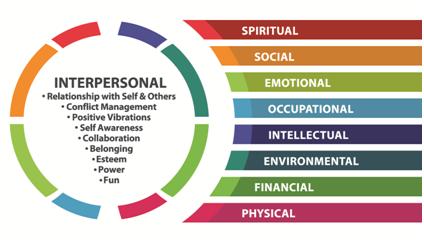 wellness.

Wellness Conversations are an engaging dialogue about what makes up wellness in all our lives. It is a very interactive dialogue that touches on all the 8 life dimensions and incorporates the Interpersonal Wellness Quotient (IWQ) personal wellness assessment instrument to help friends and family members assess their own wellness capacity and get their current wellness profile. They then become engaged in a facilitated dialogue about supporting each other to develop their wellness in each of the 8 wellness dimensions. Family and friends then develop a buddy system to help support (no nagging allowed) each other as they each work to improve their wellness and overall IWQ.

If you have employees who have been complaining about family members or friends whom they are concerned about this past year, get them a wellness conversation. If you have family and friends whom you worried about their health or who have bad habits, this is a healthy none threatening way to introduce them to a more comprehensive wellness conversation that is facilitated in a non-threatening, and non- judgmental way. Contact me if you want to learn to facilitate wellness conversations by becoming a wellness facilitator here

Go here to book your wellness conversations at home.

To Your Wellness

Joyce


Joyce Odidison, MA, PCC,

Conflict Analyst, Strategist,

Interpersonal Wellness Expert & Coach

Hi, I'm Joyce Odidison and I believe that wellness is the key to a great life, vitality and excellence. Here is my story. Three years into my mediation practice, a client got so distraught while in a mediation session, he had a heart attack in my office. He survived. However, this was a turning point in my career and led me to make the connection between our personal wellness and our interpersonal lives. As a result I created the Pre-Mediation Model, a coaching process to help clients prepare for success prior to mediation. Later, I created the Interpersonal Wellness System model and the Interpersonal Wellness Quotient (IWQ) Personal Assessment Instrument to help clients identify and improve their capacity for wellness in all areas of their lives. Unlike others who just facilitate or coach, I am well known for the quality and integrity of my work as outlined in the innovation systems and models I create and teach. Over the last five years I have created the Interpersonal Wellness Coach training program and I continue to train and mentor coaches in this program with the help of some super coaches. In my own practice, I help entrepreneurs, leaders, employees and their organizations attain fast sustainable results. I would love to support you to live well in all life dimensions as you strive to…….